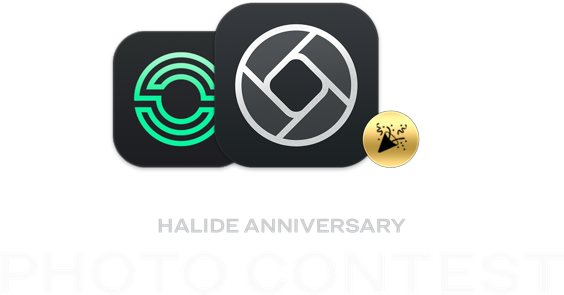 To celebrate Halide turning two, we will be selecting photos shared
on social media with the #ShotWithHalide and #SpectreShot hashtags.
​
We are selecting 50 photos to award with fantastic prizes, and selecting
three favorites from those 50 to win even more:

And the other prizes? The 47 other winners will receive a Halide and
Spectre merch-kit, including a glow-in-the-dark Spectre shirt and pin,
a limited run Stealth Edition Halide shirt, stickers and more.


Take a photo with Halide or Spectre;

Follow us on Instagram and share your photo, tagging it with #ShotWithHalide or #SpectreShot.
(tagging us in the shot helps us find it, too!)
All images uploaded to Instagram and/or Twitter tagged with #ShotWithHalide, tagging our account, and/or #SpectreShot are considered. Only images uploaded between May 28 and June 28 will be considered in this contest.
​
We will contact winners directly in the first week of July, and will announce the winners shortly thereafter. Good luck and have fun!